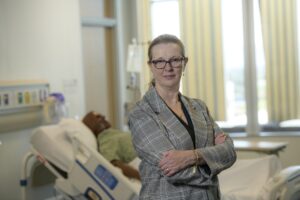 Dr. Chris Childers, Program Director of DPT program, University of Arizona
Wednesday, March 22, 2023
5:30PM-6:30PM,
Virtual or In-person by Registering below by the 21st
As we age and our bones grow more fragile, we become more aware of the importance of staying on our feet.  Some of us use, but others of us rebel against assistive devices like canes and (gasp!) walkers.  But depending on these devices isn't inevitable, as Chris Childers will explain.  Be prepared to get up and moving in this highly interactive presentation that looks at how the human body is designed to stay in an upright position. Explore the physiology and strategies the body uses and learn the 6 different balance domains. Try fun new ways to promote being active.
Dr. Childers will:
Explain and demonstrate the different aspects of balance and how our bodies maintain balance (physiology and strategies)

Discuss the 6 domains of balance

Demonstrate fun ways to practice and improve aspects of balance

Discuss and demonstrate the power of music to promote physical activity
Chris Childers trained as a physiotherapist in her native UK before moving to the US in support of her husband, then serving in the USAF. Chris worked as a physical therapist in Utah and became a board-certified Geriatric Clinical Specialist the same year she completed her MS in gerontology. In 2006 she moved to California and continued to work in skilled nursing until becoming full-time faculty in a Doctor of Physical Therapy program. Chris completed her PhD in Health Psychology in 2018 with a dissertation on motivation and limitations to being physically active in an assistive living setting. She has now moved to Arizona where she is the founding program director for the DPT program at the University of Arizona. which is anticipated to open to students in 2025.
ASA members can attend for FREE but pre-registration is required (by March 21).  There are three ways to attend:
Attend in person at Health Sciences Innovation Building (HSIB)1670 East Drachman Street. Register in person

Attend virtually at your own computer.  Register here

Attend at the ASA Koffler Great Room 5:30-6:30.  No registration needed
Compiled and edited by Charmaine Wellington, Academy Village Volunteer
Get a ticket to attend in person here
March 22:"Join us to Learn How our Bodies Maintain Balance"