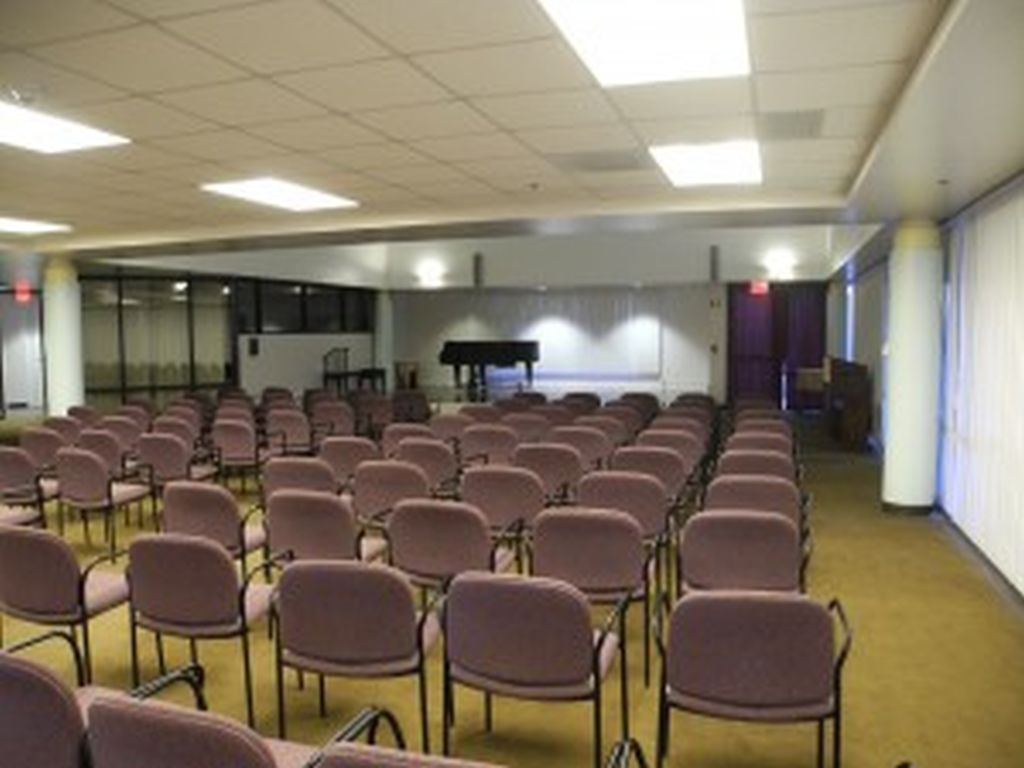 About the ASA Great Room
All concerts and most lectures and presentations at the Arizona Senior Academy take place in the Great Room. This room seats approximately 90 people theater-style and has a raised stage and presenter's podium at the front of the room. The room is equipped with a high definition audio and video system that offers many presentation options.
Acoustically the room is often described as moderately bright. Musicians praise the quality of the sound, particularly the resonance offered by the raised wooden stage. Seven loudspeakers are arrayed around the room to insure a premium listening experience. The room is also equipped with an inductive loop for the hearing impaired. The equipment used typically varies by whether the event is a musical concert or a lecture presentation. 
To accommodate those with hearing deficiencies, we ask that narrators, masters of ceremony, and commentators always use a microphone when addressing the audience. We have a number of high-quality wired and wireless microphones available for this purpose.
Because ASA members value interaction with performers, time is often set aside for a short Q&A with the audience. In this case, the ASA host passes a wireless microphone to audience members so that the entire audience can hear the question or comment. Performers use the stage or podium mic to respond.
For musical events:
Piano available onstage:  6'11" Steinway Model B grand, excellently maintained and tuned. Harpsichord also available:  Eric Herz Model S, single manual – 57 keys: A1-F6; Stops:  Front choir, Back choir, Lute stop. Please contact the ASA administrator one week before concert to request tuning to desired A-frequency and temperament for the harpsichord. Yamaha P-35 88-key electronic keyboard with piano, harpsichord and organ voices. Go to http://www.manualslib.com/manual/431484/yamaha-p-35.html for full specifications. Music stands — 5 Manhasset style.
Due to the room acoustics, sound reinforcement for musical instruments is not needed. However, solo and duet performers may prefer some degree of amplification for voice or softer sounding instruments (such as an acoustical guitar). In this case, performers are encouraged to bring their own amplification equipment. ASA has both wired and wireless microphones (using XLR connectors) and a mixing panel; however, the design of our system may place some constraints on musicians who are accustomed to using microphones for instruments. Our mics are intended for voice; the mixer panel is located some distance from the stage; and the stage is typically limited to two wired mics (supplemented, where needed, with two wireless mics).
 For lecturers and presenters:
It is essential to use a microphone when speaking at the Arizona Senior Academy. We have the following types of mics available: wireless lapel, wireless handheld, wireless head-worn, wired podium, and additional wired mics, if needed. Microphone signals are fed to an amplification system located at the control desk, approximately 50 feet from the podium. Sound levels are established 20-30  minutes prior to the scheduled start time and typically require no further adjustment.
If you wish to use the wireless lapel or head-worn microphone, you should wear something that allows you to attach the bodypack transmitter somewhere on your person—a belt or sash, or in a pocket.
For Power Point or Keynote presentations, a high definition projector and widescreen are available. Computer audio can be directed to our amplifier and speakers. Presenters are encouraged to use our laptop computer because the resolution is set precisely to fill the widescreen. Presenters may use their own computers if they wish, but we are not able to adjust the resolution or screen image area for different computers; any such adjustments must be made on the presenter's computer, by the presenter.
DVD and Blu Ray discs may be shown on the widescreen in the Great Room, and can be incorporated along with presentation software (e.g., Power Point). However, due to the way our equipment is wired, the microphones are disabled during the showing of Blu Ray (but not regular DVD) discs. Thus there is a drawback when using both Blu Ray discs and presentation software: presenters do not have access to microphones while Blu Ray discs are playing. (Note: We are working on a solution to this problem; please check with the ASA office before planning on using both Blu Ray discs and presentation software on a computer.)
 For small groups:
The North Seminar Room seats 20 persons comfortably around a rectangular arrangement of tables. Groups as large as 28 have used this room. The room is equipped with digital projector, large screen, and amplified sound. Computers are easily connected to the system. A DVD (but not Blu Ray) player is available. Microphones are not needed in this room.