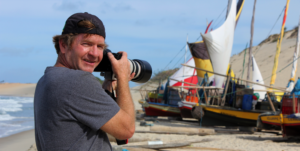 Daniel Duncan, M.A., Producer/Filmmaker, The Southwest Center, University of Arizona
Monday, October 9, 2023,
2:30pm-3:30 pm,
ASA Koffler Great Room, and Zoom
In the Americas with David Yetman, the HDTV series by multiple Emmy Award-winning producer & director Dan Duncan, is in its eleventh year of production.  100 half-hour episodes produced to date can be seen on The Americas.org.  The series is broadcast throughout the United States on over 160 PBS stations, as well as in Europe and Latin America.  It can also be seen on Amazon Prime.
Technological advancements in filmmaking are revolutionizing how people produce high quality movies and documentaries.  Not too long ago producing high definition movies required
hundreds of thousands of dollars in production equipment and high end post-production
facilities for editing.
Daniel Duncan will summarize the technological advances for making movies over the last 150 years and showcase some of the current tools and techniques used in producing the PBS series, In The Americas with David Yetman, today.  He will show some promo clips for the upcoming 11th season and share some never before seen outtakes from this year's production.  He will share anecdotal stories, discuss production challenges and processes and answer audience questions.
Winner of many major awards in directing, cinematography, editing, documentary, and feature categories, Daniel is interested Latin American culture and is fluent in Portuguese and Spanish. He is currently working on another book project documenting the northeastern Brazilian cultural icons of carnival, rodeos and subsistence fishing on rustic wooden sailboats.  His first published book project is entitled: Portraits of Cuba.
Compiled and Edited by Patti Woodbury, Academy Village Volunteer
You can connect to Zoom either by using the following URL: https://zoom.us/j/95456511620?pwd=OC9GcnJRNmJpMTdXdXFhaUpCUkx4QT09 or by opening a browser to zoom.com/join and typing in Meeting ID: 954 5651 1620 and Passcode: 85747 
October 9: "Guerrilla Filmmaking: Telling Stories with Pictures and Sound"