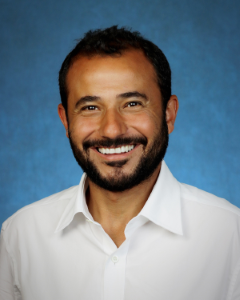 Dr. Obama Abdel, Northwest Hospital
Monday October 23, 2023,
2:30pm-3:30pm,
ASA Koffler Great Room and zoom.
Practicing medicine is never boring. It's a great way to help people while being intellectually stimulated, and that goes double for practicing cardiology.  A physician must master many clinical skills and be good at a lot of different things in order to advocate for patients and help them reach their highest level of health and functioning.
As an interventional cardiologist, Dr. Abdel will explain how he uses his skills to treat complex cardiovascular disease using medications and lifestyle changes – and, when needed, procedural interventions to open blockages that develop in the arteries of the heart, neck or extremities.
While he loves treating heart problems, he also loves educating patients about how to reduce their risk in the first place. Cardiovascular disease is the leading cause of death in the United States, but it's also often preventable and manageable with the right lifestyle choices. Healthy diet and exercise habits – along with not smoking – are essential to overall cardiovascular care.
He tries to set a good example for his patients in the area of exercise. When he's not working, he plays tennis four or five days a week – or go for a run or hike. He's lived and worked in many places so loves to travel.
Jordan University of Science and Technology School of Medicine, Ar-Ramtha, Jordan
Internal Medicine, Indiana University School of Medicine, Indianapolis, IN
Cardiovascular Medicine, St. Joseph's Mercy Oakland Hospital, Pontiac, MI
Cardiovascular Medicine, University of Connecticut, Hartford Hospital, Hartford, CT
Interventional Cardiology, Ascension St. John Hospital, Detroit, MI
Board Certified Interventional Cardiologist and Endovascular Specialist
Compiled and edited by Rosemary Brown, Academy Village Volunteer
You can connect to Zoom either by using the following URL: https://zoom.us/j/95456511620?pwd=OC9GcnJRNmJpMTdXdXFhaUpCUkx4QT09 or by opening a browser to zoom.com/join and typing in Meeting ID: 954 5651 1620 and Passcode: 85747 
Oct 23 "Cardiovascular Prevention & Services"