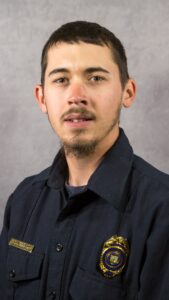 Corey Guerin, Lead Fire Prevention Officer and Firewise Regional Coordinator for the Arizona Department of Forestry and Fire Management
Monday, August 7, 2023,
2:30-3:30 pm
Koffler Great Room at ASA and Zoom
On a daily basis, Americans are observing on television the increasing frequency and devastating effects of wildfires around the country.  As individual homeowners, they are becoming more aware that the devastating effects of wild fires close to them can be diminished with knowledge and action.  Corey Guerin will be showing local homeowners planning strategies and encourage community collaboration with the Firewise USA® Program.
The program encourages local solutions for safety by involving individual homeowners, neighborhoods, and communities to take responsibility and prepare their homes to resist wildfire.  He'll include Firewise techniques that include minimizing the risk of home ignition by carefully landscaping around residential structures,  selecting ignition-resistant building materials, and carefully positioning structures.  He will explain how the program provides resources to help homeowners learn how to adapt to living with wildfire and encourages neighbors to work together to take action now to prevent losses.  It provides specific criteria for communities regarding wildfire preparedness and, based on this criteria, offers national recognition for their work.
Corey has been fighting wildland fires for seven years now. He started out his wildland firefighting career in Las Vegas, Nevada with the Bureau of Land Management(BLM) working in many different capacities such as hand crews, engines, dozer modules and air tankers. He moved to Arizona in the spring of 2021 to take his present position as Lead Fire Prevention Officer. He'd like to increase the number of communities in southern Arizona collaborating with the Firewise Program.
Compiled and edited by Rosemary Brown, Academy Village Volunteer
You can connect to Zoom either by using the following URL: https://zoom.us/j/95456511620?pwd=OC9GcnJRNmJpMTdXdXFhaUpCUkx4QT09 or by opening a browser to zoom.com/join and typing in Meeting ID: 954 5651 1620 and Passcode: 85747 
Aug 7: "Firewise Communities"