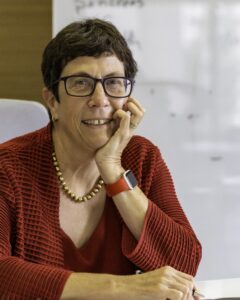 Laura Mosqueda, M.D., Professor: Family Medicine and Geriatrics, & Director of National Center on Elder Abuse
Wednesday, April 26, 2023,  
5:30-6:30 pm,
ASA Koffler Great Room, or Zoom with registration (below)
Join Dr. Mosqueda in person or via zoom with special registration for a presentation about understanding, identifying, and preventing elder abuse or neglect.
As we age, our susceptibility to abuse and neglect increases, particularly for people who live with dementia. It can be hard to distinguish between a common age-related change and a change that may actually be a forensic marker of abuse or neglect, such as a bruise or pressure sore. Many people who engage in abusive behaviors are ashamed or deeply sorry yet do not have the wherewithal to act differently; this does not excuse abusive behavior, but it does help us understand and prevent it. In this lecture, we will discuss how to detect abuse/neglect, what to do if you have a suspicion, and how to help prevent it from occurring in the first place.
Laura Mosqueda, MD, is a professor of Family Medicine and Geriatrics at the Keck School of Medicine (KSOM) of the University of Southern California and is the Director of the National Center on Elder Abuse. She is a widely respected authority on the care of older adults and people who are underserved. Since joining KSOM, her roles have included: Chair of the Department of Family Medicine, Associate Dean of Primary Care, and Dean. She is the principal investigator of two NIA-funded studies to understand the causes, consequences, and prevention of abuse of people with dementia. As a clinician, researcher, educator, administrator, and former Health and Aging Policy Fellow, she has a unique perspective that is informed by her extensive experiences in the community, including her role as a volunteer long-term care ombudsman.
"To register to attend in person or by your own computer, go to the Innovations in Healthy Aging website and choose "Events."
No registration is required to attend the lecture in the ASA Koffler Great Room 5:30-6:30 Wednesday.
Compiled and edited by Charmaine Wellington, Academy Village Volunteer
APRIL 26: Elder Abuse: Causes, Consequences, and Prevention