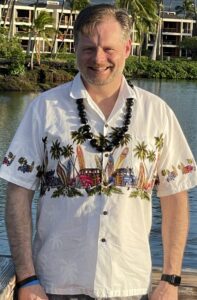 Jason Wright, Edward Jones Financial Advisor
Monday, April 17, 2023,
2:30-3:30 pm,
 ASA Koffler Great Room & Zoom
Incidents of financial fraud and identity theft are on the rise. The sophistication of scammers and the tools they use are increasingly difficult to combat. No one is immune from these scammers but Jason Wright will help us limit the possibility of becoming another victim. His presentation focuses on the most prevalent fraud schemes being used today and explains what actions we can take to minimize our vulnerabilities to them.
Specifically, Jason will discuss:
Current scams in the news and how to identify them and others.
How to spot red flags that indicate your data has been compromised by a scammer.
Steps you can take to proactively limit your exposure to data and information theft.
The resources available if you do become the victim of data theft.
Jason Wright is a Financial Advisor for Edward Jones where he establishes financial strategies for clients seeking to maximize their investment returns. He and his family enjoy giving back to the community through local volunteer organizations. Together they pursue many outdoor activities including visiting the Saguaro National Park, hiking on the Olympic Discovery Trail, Exploring the Colossal Cave Mountain Park, kayaking in Sequim Bay, camping at Lake Cushman and riding ATVs in the Tahuya Forest.
Compiled and Edited by Margo Vroman, ASA Volunteer
You can connect to Zoom either by using the following URL: https://zoom.us/j/95456511620?pwd=OC9GcnJRNmJpMTdXdXFhaUpCUkx4QT09 or by opening a browser to zoom.com/join and typing in Meeting ID: 954 5651 1620 and Passcode: 85747 
Apr 17: "Outsmart the Scammers"