The Academy Health Care Program
The Health Care in Program was created for all members of the Arizona Senior Academy to provide a comprehensive continuity of care advocacy program. It is owned and operated by the Academy Services Corporation, a tax exempt, non-profit entity whose sole mission is to serve the needs of Arizona Senior Academy members. The organization and funding ensures that homeowners are fully protected from legal liability and from any debt these business may incur. At the present time, the Academy Health Care Program provides Assisted Living for residents, and those in in the Tucson area: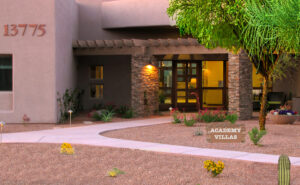 Academy Villas: consists of two beautifully constructed buildings. One is 9,000 sq. ft. (left),  and the second, 12,000 sq ft.(above). It has spectacular views of the Rincon Mountains. The buildings are single story, and laid out in a centralized plan with the suites radiating off the central shared space. It is designed to be as home-like as possible in both appearance and manner of operation. It is fully licensed as a directed care facility and is open to both ASA members and non-residents (members are given preference in admissions).  Academy Villas provides an exceptionally high standard of quality care, as well as care practices that are at the cutting edge of assisted living facilities. Inquiries are welcome and tours are easily and conveniently arranged.
Web address: www.academyvillagevillas.org
Contact phone: 520 647-7500
Physical address: 13775 E Langtry Lane,
Tucson, AZ 85747