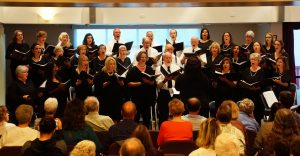 Upon retiring to the Tucson area, Academy Village resident and ASA member Fred Reinagel noticed there was no community chorus in the southeast sector of metropolitan Tucson. In the interest of perpetuating the American (and, originally, European) tradition of community choral singing, Fred wanted to fill that gap by creating a non-professional, all-volunteer organization.  Thus arose the concept of The Vail Chorale.
Fred had organized and directed choirs and choruses for most of his adult life, and he wanted to create one here that would welcome all age groups. With that in mind, he called for volunteers and arranged for dual sponsorship from the ASA and the Vail School District. It was serendipitous that the Superintendent of the District also served on the ASA Board of Directors.
Over the years, the Vail Chorale has become an integral part of the Greater Vail Area's cultural scene, performing Spring and Fall concerts each year, as well as appearing at various community events.  The Chorale is now a member of the Arizona Choral Arts Association (ACAA), providing opportunities for wider recognition across the region.
The Vail Chorale is a non-auditioned community chorus open to all singers 18 and over. Members come from varied musical backgrounds and skill levels, enjoying the camaraderie and joy of singing in four-part harmony. For more information, go to the Chorale's website: www.thevailchorale.org.