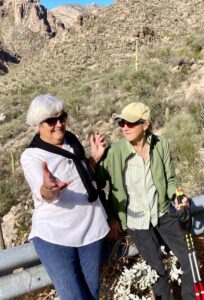 Nancy Fitzgerald, Professor Emerita, College of St Scholastica
Connie Wanek, Prizewinning Poet
Wednesday, February 2, 2022,
2:30-3:30 pm,
an ASA Zoom Webinar*
Our resident poetry guru, Nancy Fitzgerald, and her good friend, award-winning Minnesota poet Connie Wanek, will present a duo reading.  Ms Wanek, a friend of the Village who has read her work here at least six times and has shared her experiences with Nancy's ASA poetry-writing classes, may be appearing for a final time, as she is selling the place where she winters in Tucson. This will be a must-hear reading from the two friends.  
Nancy Fitzgerald grew up in northern Michigan and earned an MFA from the University of Michigan Creative Writing Program.  She has published three chapbooks of poetry and was nominated for a Pushcart award.  Her work is included in many anthologies and has been featured on Garrison Keillor's "Writer's Almanac."  Nancy taught creative writing for forty years, the last twenty at the College of St. Scholastica in Duluth MN, where she won the Lavine award for teaching excellence.  Now retired, she divides her time between her home here in the Village, and her summer home in Northport, Michigan.
Connie Wanek grew up in rural Wisconsin and Las Cruces, New Mexico and studied at New Mexico State University.  She has published four collections of poetry and a book of short stories, and she coedited an anthology of Minnesota women poets, past and present.  Her honors include the Willow Poetry Prize, the Jane Kenyon Poetry Prize, and a Witter Bynner Fellowship at the Library of Congress.  Poet Maxine Kumin has said Wanek's poems "have a delicious artlessness about them, even as they take us in and lift our neck hairs with the unexpected aptness of their metaphors."  Connie Wanek and her family make their home in Duluth Minnesota, where she and Nancy Fitzgerald met and became fast friends.
Compiled by Margaret Nesse, Academy Village Resident
ZOOM LINK to ALL WEBINARS:
Please click this link to join the webinars Here:
PASSWORD: 85747
Feb 2: "Sisters in Poetry"